How to use our site to find Auto Parts
Buying auto parts online should be a simple process from searching for the correct part to having it arrive on your doorstep within a few clicks.
With Hollanderparts.com.au we want to make sure that this is exactly the experience you get from using our site.
Hollander Parts is the perfect destination for sourcing auto parts for many types of customer. Whether you are an auto part enthusiast searching for a replacement part as a result of a minor bump. A body shop looking for a cheaper source of genuine parts for their customer or an insurance repairer looking to avoid a total loss on a vehicle. We have a range of options available to search and order recycled car parts. 
Quick Overview of how to find your auto part
Our site has three methods to help you find the part you require. All of which are easily found on our homepage. They are designed to be intuitive to use whether you are a first time part purchaser or a seasoned body shop sourcing parts to fulfill a customer or client need. 
 Using our Free Text Search

Ideal for the experts or those that know exactly what they are looking for. It is our sites own search engine. Simply enter the description in plain English of what you're looking for and our site will do the rest.
Based on whatever your search query was we will direct you to a selection of results where you can use our filter options to narrow this further. Something unique to HollanderParts.com.au is the ability to narrow the options down to a specific part variant. This not only helps you find what you are looking for but also helps you make a part purchase that you know is compatible with your vehicle.
Using the predefined search options

Get to your results faster with our predefined part search options. Simply select the Year, make, model and part information you require. We then show you the parts that match that criteria. If for whatever reason there are no results you can request these specific part criteria from our suppliers directly using the online form.
When using the predefined search options you will notice that the "Part Variant" option is not selectable until all the prior criteria are selected.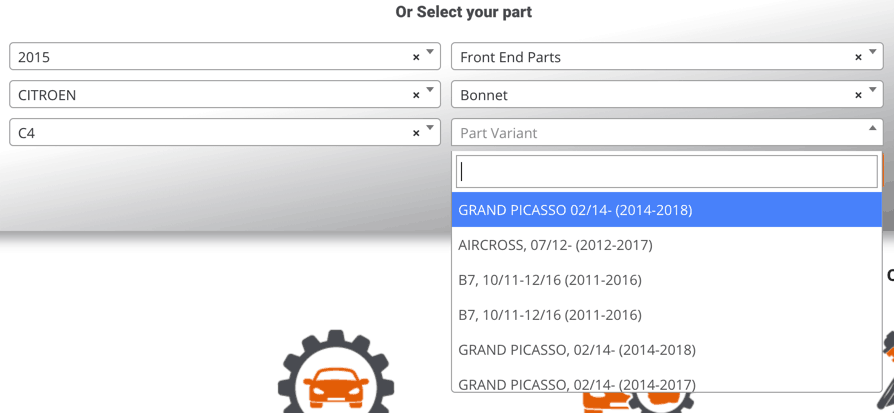 This is to ensure we get the most accurate results in this area. However, you can search with partial criteria if you wish to for example by simply selecting a specific year and model. As with the free text search once you hit show parts the results screen will allow you to narrow down the automotive part options further.
Use the Simple Step by Step Process

Located on the homepage the step by step process has been designed to help the first time and novice car part consumers find the right part for their vehicle. This handholding search method asks a user to select a make, model and part category before being provided with a set of results. This is designed to help narrow down the risk in selecting the wrong or incompatible part types. 
Throughout this journey, the number of parts available is updated and listed on each page. Making it easier for a user to see what is in stock for a particular make or model of vehicle.
How to buy used parts online using Hollander Parts
Regardless of how you choose to search for parts on our site, you will be able to purchase parts directly from the yard using the method of payment that supplier supports. Once you have placed a part in your basket you can head to the checkout screens and complete your online order.
Once your order is completed you will receive an order confirmation email and we will let the supplier of the part know that you have placed an order. As Hollander Parts do not stock the part directly the part is shipped from the location from which you have made the purchase.
Our parts are only supplied from dismantler yards located within Australia, as a result, each part will have specific shipping costs which can be calculated on each product page prior to purchase. Consult our delivery information page for further details. 
How do I drill down my part search to a specific part
Whether you use the free text or defined search options to source a replacement part on our site, you will always be taken to a results page if we have matching parts.  From our results screen, you will be able to see the total number of matching parts that matched your search criteria at the top as well as a grid displaying the first page of your results. To narrow this down further you can use our filter menu. Dependant on how you reach this page many of the filter options may already be defined. The image example below showcases what a free text results page could look like for an "Engine parts" inquiry.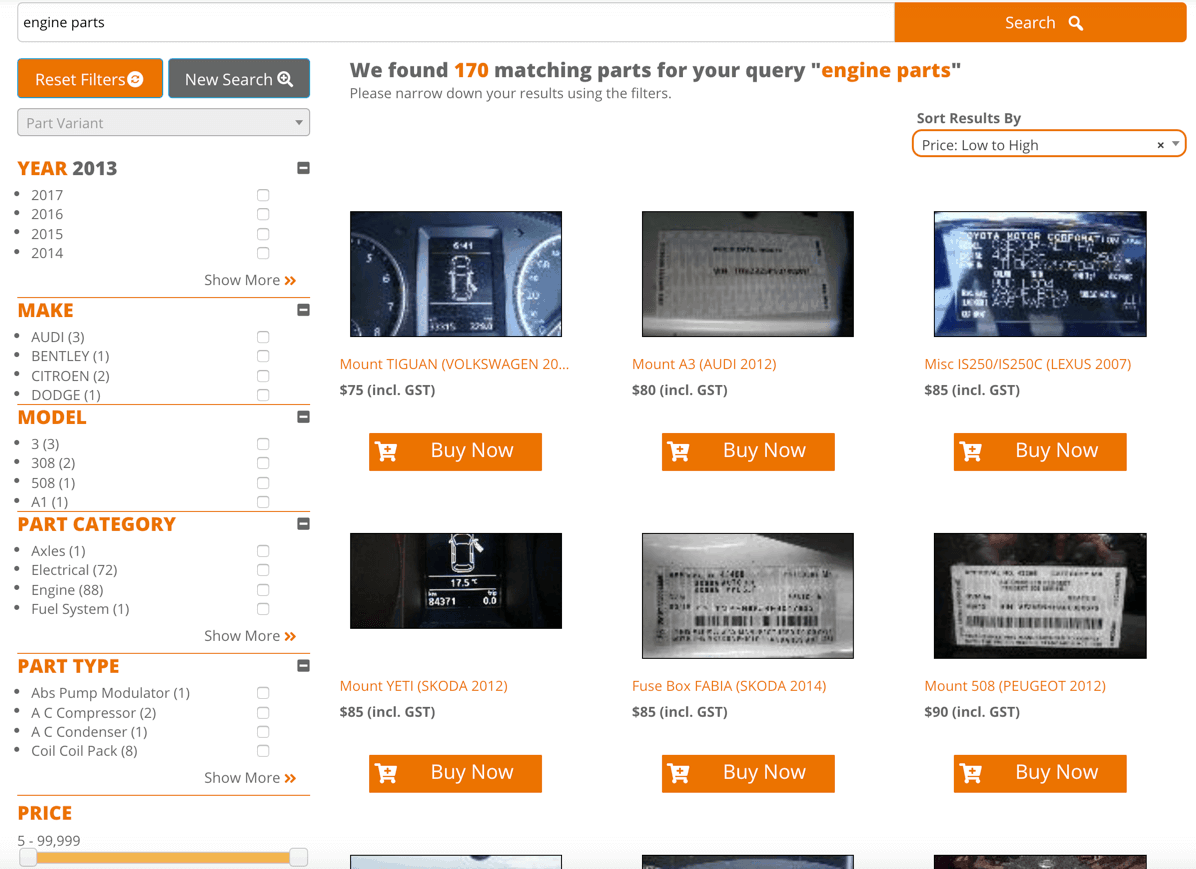 Feel free to toggle these filters or select others, in addition, to get real-time updates to your search results on the page. This also works on mobile and the filter menu can be activated by the filer button. From this screen, you can also reset your search filters or opt to carry out a completely new search removing all previously selected criteria.
Will the part fit my car? How our search methods can help
Using one of our search methods should ensure you narrow down a part search that matches the vehicle you require the part for. If you are still not sure that the part is the correct one for your needs we do allow you to contact the supplier directly from within the product screen. We do this to offer an additional level of assurance to our customers before making a purchase. Want to check a colour? condition? etc then use these options to speak to the supplier of that part.
You can do this by email or calling them directly. Look for the supplier information tab located on each product page for this information. You may also wish to do this where a vehicle image is available rather than a part image. This may be because the part is still bolted to the vehicle and upon order will be taken into stock for shipping.
Where can I find used car parts information on the site?
Whenever a user selects a product on Hollanderparts.com.au we will take you to the product page for that selected product.
On each product page, displayed are the relevant additional information that the supplier has made available for that part. This could be anything from the miles the parts donor vehicle has driven to the colour or gearbox type.
Each part will have varying levels of information. Each recycled part also has a show more info option available on the product page simply select this to reveal more part specifics.
I have found a part how do I calculate the shipping cost?
All our listed parts are available for purchase via hollanderparts.com.au, however, the price listed excludes shipping. In order to calculate the shipping cost for your selected part, simply navigate to the shipping information tab located on the product page of any selected part and enter the relevant delivery details in order to return a delivery price for your part being viewed.
Once you are happy with this simply add the part to your basket and follow the checkout process ensuring to select the shipping option required.
If you do not wish to get the part shipped you can select a cash on delivery option during the checkout process. Effectively offering you a click and collect alternative to paying for a product online and upfront.
How can I sell auto parts online?
Hollander Parts is not an open marketplace for suppliers and to be able to list and sell used auto parts you must be an existing user of the Hollander International's yard management system called Pinnacle Professional.
In addition, we only allow recognised, modern vehicle recyclers to use our solutions. This ensures that our part quality can be checked and warranties can be put in place on the parts you buy. This is our method of ensuring a minimum level of quality and service is delivered for our site users and suppliers customers.
If you are an auto recycler looking to list your parts please contact us about Hollander International's Pinnacle Solutions